IMYS #20 - Radio Silence
The Disappearance
I've always wanted to be able to write an email, tweet, letter, or blog post that started like this: "I've been quiet these last few weeks because I recently got a contract for [this thing I created] and now I can finally share the good news." But, this is not that email.
Instead, this email comes to you after a few missed weeks due to mental health issues and insane travel schedules. I was in Fort Lauderdale Beach for a week for work and just returned from my 25th high school reunion in Rome, GA. Both of those trips required lots of socializing and face time. I can do it. I might even be good at it. But, the toll it takes is tremendous. It leaves no space for whatever it is that lets me write this newsletter or make progress on my other pursuits.
At the reunion, I encountered an interesting phenomenon. Many people started a conversation with some version of, "Well, you already know what's up with me from Facebook." In my case, that's not true, because I don't have a Facebook account. But, I'm standing there in a group so I smile and nod. Then, no one talks. We all look to the high corners of the room. I'm overly forward so I say, "I don't know anything about what you've been doing. Tell me."
The conversation would begin. Within five minutes, there was laughter. There was commiserating. There was agreement and disagreement. In short, it was connection. The real kind that simply can't be replaced by Facebook, Twitter, an email, or maybe even a letter. I've been connected to these humans for twenty five years. It only takes a single vibration to bring us to a shared place. We human beings need to be in a physical space with other humans to find out what makes us all tick.
Humans have rituals and traditions that reinforce this. Religion thrives on it. The vast and varied food cultures of this planet exist to nurture it. Yet, we build our houses on larger pieces of land which we forbid our neighbors to enter. We build fences, or walls. We wear earbuds to insulate us. We have all our needs and desires shipped to us in brown trucks. We continually isolate.
We are left lonely in a world of constant connection. It is the deepest paradox of our humanity and maybe the one that causes us the most harm.
Now, let's share in a bit of the world.
---
There Is So Much More
The song "There Is So Much More" by Brett Dennen has been around for a while, 2006 to be exact. When I first heard it, I was recovering from a stint in rehab and fighting all the demons that you meet there. It's over-simplified to say that the song put my thoughts to words. Instead, it captured a part of me that maybe was afraid to be voiced. A lot of that time is fuzzy in my mind. It's the blessing of forgetting. This song has stood the test of time and still provides solace in the sense that it makes me feel less alone.
The Challenge of Difference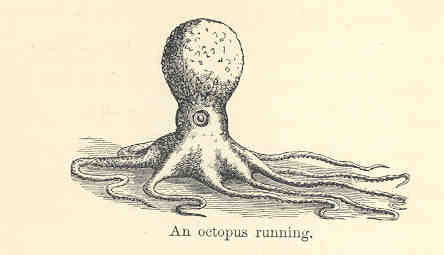 By Charles Frederick Holder - Along the Florida Reef, Public Domain
We all tend to give the animals around us human motivations. Youtube is full of videos of dogs "saving" people or other animals, cats frowning, bears waving kindly, dolphins playing games, and more. We want there to be some connection between us and the natural world that is fully understood. How do we then make sense of the octopus? It seems intelligent. It seems to remember us. It seems to like some of us more than others. Yet, anatomically, it is so radically different from us, from a dog, even from an earthworm, that it defies any explanation we've been able to come up with. I find some comfort in the idea that there's a part of nature that seems unknowable, some portion of our Earth and its inhabitants that we humans maybe can't and won't lord dominion over.
Best of the Century
Best of lists are the lifeblood of the Internet. I remember sometime around 1995, one of the longest threads I ever saw on Usenet was titled, "The Definitive List of the Best Novels." As you might imagine, not one of the replies was congratulating the author on how well they'd whittled down all of human storytelling to a short list. And yet, we continue to try. The Guardian weighed in recently with their "100 Best Books of the 21st Century" list. Using the word century sounds amazing but we are really only talking about 18 years from 2001 to the present. I won't spoil any of the picks but it is a thought-provoking list.
Boiling a Frog
The world is full of ruminations about work. Look back at the Industrial Revolution and the art that was generated to both celebrate its onrush of capital and seeming progress and to denigrate its lack of concern for the humans that worked within the machine. It feels like we may be at a similar point of inflection around AI, Machine Learning, and Automation. This New Yorker piece by Anna Wiener isn't really about that. Instead, it describes the human cost of the run up to that shift in our culture. It lays out, at human level, what this bonanza of money and optimism around the "tech industry" has wrought.
The Weight of Grief
I recently watched the film, "Evelyn," which is a documentary by acclaimed war photographer Orlando von Einsiedel about the suicide of his younger brother. It shows the family, primarily the surviving siblings going for a long walk to finally talk about what happened to their brother, Evelyn. It is heart-wrenchingly sad and I recommend you be prepared should you watch. But, you should watch it. It's a stunning film about family, grief, and the power of human connection to elevate us to a higher self. The above video is a song from the film written and performed by Orlando's sister Gwennie who also appears in the film.
The Bath as Portal
I'm not a bath taker. Never have been. When I was a kid, I used to fill the bath up and sit on the toilet for the approximate time a bath would take. I'd wet my hair and then emerge from the bathroom proclaiming how nice my bath was. The water would flow down the drain hopefully taking the sin of my lie with it. But, some people in the world demand a bath. They luxuriate in the time it takes, the womb-like embrace, and the silence that it often engenders. In this article, Mikaella Clements takes a look at how baths have been used in recent literature.
Hello? Are you there?
I've never enjoyed talking on the telephone. It seems like a lot of work. The current generation probably doesn't even know that their phones can call people. Everything is text-based. I'm OK with this. I type fairly well and express myself with the written word in a way I'm comfortable with. This Atlantic article by Amanda Mull makes the case that we should start talking on the phone again. In the world of communications, they talk about low-context interactions and high-context. Face-to-face, in the same room, communication is the highest of context. Some distance after that is a video call. After that, a voice call. Falling so far behind that its context would take decades to reach us through time and space is asynchronous text communication, like Slack or even texting. So, I get the idea that we might all benefit from a little more context and the healthy confrontation it creates. That's how understanding is achieved. Don't think about it too hard. Call your mom.
R.E.M. Song of the Week
Sure, I could play you Michael Stipe's new solo single. But, that's not an R.E.M. song, so I'll refrain. Instead, let's look at the band's last album, Collapse Into Now. The song, "Oh My Heart," collapses a lot of R.E.M.'s strengths into a single song. There's the acoustic-based instrumentation from Out of Time. There's the political, timely lyrics of latter Stipe (this song being about Katrina's havoc on New Orleans). There's the arpeggiated guitar work of classic Peter Buck. There's the perfect backup vocals by Mike Mills. The only thing missing might be that post-punk edge from the earliest records. Maybe there's a maturity in that.
---
I appreciate your coming back to this with me. I'm happy to share this with you.
Your guide,
Alex

A Banyan Tree - Hugh Taylor Burch State Park - Ft. Lauderdale Beach, FL